EPIC Surgeon's Stool
0003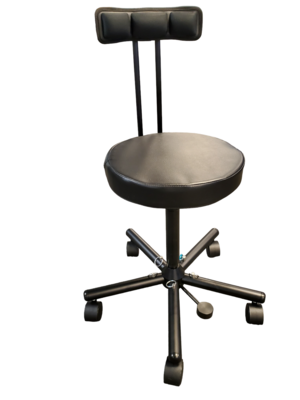 Surgical
The EPIC Surgeon's stool was developed to provide the ophthalmic surgeon or any surgeon who sits routinely during surgery the comfort and flexibility they are used to but in a mobile platform. This stool has been developed with the ability to transport it in a 15 pound bag to any location in the world.
The stool seat has a range of 20 - 28" and is adjustable with a footpedal during a sterile procedure.
The second version of the stool was released in April 2019 and features a traditional round seat with an optional adjustable backrest that can also serve as an armrest. New pricing is being released for this new version.
We have introduced a brand new carrying bag in 2019.

Material: Aluminum with Gas Cylinder
Color: Black
Height range: 20" to 28"
Weight: 11.5 pounds (seat only) 13.5 pounds with back 15.0 pounds in bag
Limits: 250 pounds
Backrest/Armrest (60)
Pay by check (-2.5%) (-2.5)